Print Design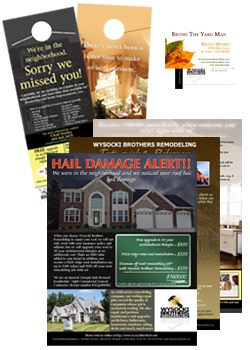 BuildingD designs printed marketing materials for all types of companies in the construction industry.

Residential Construction
Door-to-door canvassing is a tried-and-true technique to gain new customers. But in order to keep the attention of potential clients after your canvasser has left the property, you need to leave them with material that keeps YOUR company in their minds. Flyers. Sell sheets. Business cards. Door hangers. These are the first tangible impressions of your business that homeowners often receive from you. You need these to advertise your business, your current specials, and to leave behind a professional impression for future and current clients. For you BuildingD can design:
Sell sheets
Postcards
Business Cards
Door Hangers
Brochures
Catalogs
Magnets – both for marketing and for your canvasser fleet vehicles
Marketing materials and giveaways (e.g. pens, cups, calendars, notepads, stickers etc.)
Company apparel
Tradeshow graphics
Power Point presentation
If it can be imprinted on paper, cloth, vehicle, merch or promotional products, we can design it for you.

Commercial Construction
Need a beautifully designed Power Point presentation emphasizing how your current and future projects are LEED sustainable? Or could you use a services and past projects catalog for prospective bidders? BuildingD takes care of the commercial construction companies and creates top-notch printed marketing and branding that you can be proud of. Contact us today!
Looking for web design services? Click here to see what BuildingD can offer you!